CAMPION Jesuit High School

Nostalgia Page

Prairie du Chien, Wisconsin, USA
---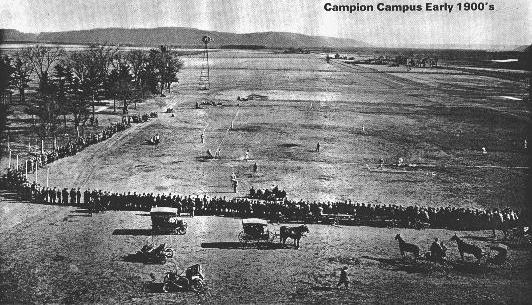 ---
This is the Nostalgia Page for Campion Jesuit High School (CJHS). Campion Jesuit College was founded in 1880, its namesake being the Jesuit Priest of the 16th century Edmund Campion (1540-1581).
From 1888-1898 the school was a private house of formation for Jesuit Novitiates and Philosophates. In 1898 the school re-allowed lay students but as a high school as well as a college. In 1925 the college program was discontinued. In 1919 Campion College was the first private college to adopt the ROTC (Reserve Officer Training Corp). Before that there was the SATC (Student Army Training Corp). In the early-1970s Campion Jesuit High School was one of the first ROTC schools to drop the ROTC program from its curriculum.
In 1975 the school closed its doors and was later sold. It since has changed hands several times being operated as a Lutheran Seminary, Martin Luther Preparatory School (MLPS), and is currently being operated by 'The State' as a reformatory of varying degrees.
Generally, 'Campion' in this context will be referring to the Jesuit College or Jesuit High School operated by the Jesuits and which resided in Prairie du Chien, Wisconsin, USA.
If this is the not the school you went to then perhaps you would care looking for one of the "other" Campion Schools of which there are now several.
---
The Complete History of Campion Jesuit High School
Bibliography
Campion Spirit from 1924 Year Book
A Fable that is True from 1955 Year Book
Nostalgic Glance from 1955 Year Book
Our Heritage from 1945 Year Book
Two Rivers Run by Campion by James J. Daly, S.J.
A Brief History of Campion Jesuit High School of Prairie du Chien, Wisc. by S.J. Staber, S.J., 1972 (Revised 1975)
A Short History of Campion High School, Prairie du Chien, Wisconsin by Sylvester J. Staber, S.J., 1979
A Change of Vision in Rural Wisconsin Campion Jesuit High School, 1965-1975 by Casey Beaumier, S.J.
Changing Visions for Jesuit High Schools in America: The Case of Campion Jesuit High School, 1965–1975 by Casey C. Beaumier
50 years of Education: Campion High: Living large in hearts and memories by Fr. Greg Lucey, S.J.
---
Nostalgia Knights
---
Logos Medals Buttons Artifacts Paraphernalia
---
Sports Archives & Coaches
---
---
---
CAMPION GOLF TOUR
---
---
---
Camp Campion Nostalgia Archives
A Summer Sports Camp called Camp Campion was established in the mid 60s.
---
The Campion Melk Men Adventure
Exchange student program in Melk, Austria!
---
Oh Where Have All The Jesuits Gone... Campion Jesuits, that is!
Ever wonder where all those Jesuits, lay teachers and staff are these days. Many of us do. With your help we can keep this list up to date.
---
---
---
Thanks for visiting the Campion Nostalgia Web Page,
The Contributors to the Campion Nostalgia Web Page