Campion Student Chapel Altar in Rome, Georgia
This is Ken Weis, Campion '49. I saw a note between two alumni about our Campion altar, and decided to pursue it. The lady, Carol Fries, has been most kind and has been very responsive to information I shared with her about Campion Jesuit High School. There are most probably some grads of Campion that have no idea what happened to our altar. It was not just "any" altar, it was our altar and it has a glorious history.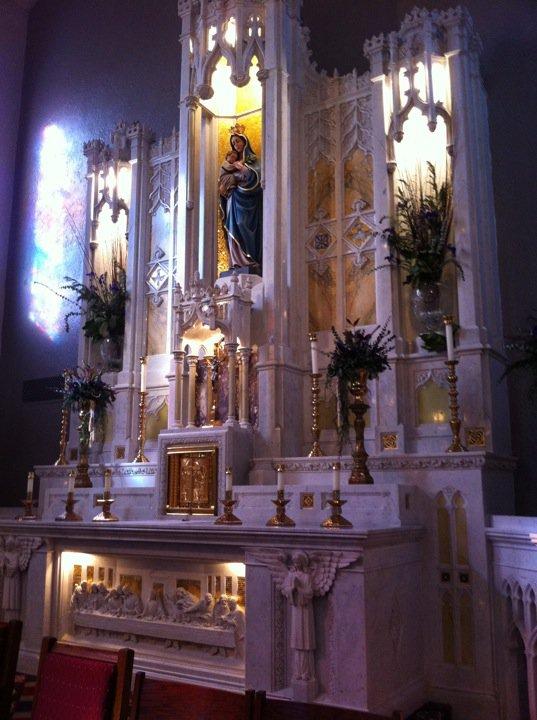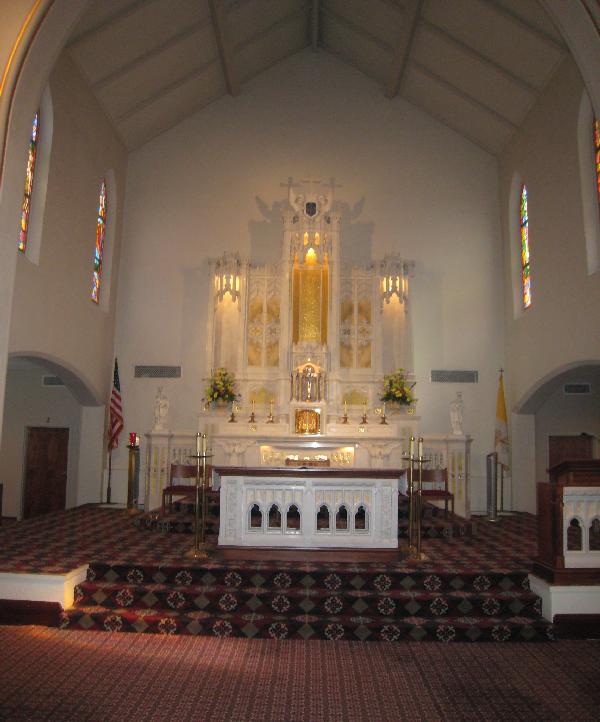 Our altar is now the altar of St. Mary Church in Rome, Georgia. Carol was kind to take pictures of their altar and forward them to me. I want to share them with all the grads still living and proud to have had the opportunity of a great Jesuit education. I can only speak for myself, but Campion was really a home for me. Like many grads, I was saddened to hear of the school closing and tried hard to understand how and why it closed its doors. I read all the reasons and still remember a few of us who were interested in reopening the school, a Sysyphean task at best. When the Lutherans bought the school as a Lutheran Prep School , I hoped that they would be successful and maintain the campus. Of course, they failed also, and as I best understand it, the State of Wisconsin bought it and used it as a minimum security prison. I suspect some grads got a chuckle out of that designation, remembering the long "JUG" afternoons and the "Lost Weekends" imposed for minor to major errors in judgement acccording to the Jebbies. Some, but few, errors in judgement led to expulsion.
In my notes to Carol Fries, I expressed the hope that the parishioners of St. Mary would cherish the altar that was a daily part of our young lives. Also, I hope and pray that as they worship there in Rome, Georgia at "our" altar, they receive many blessings that we enjoyed much earlier. I know that if the altar were destroyed by a wrecking ball, all of us would feel the pain.
If any of us get near Rome, Georgia, I would hope that we would stop by and say hello to the wonderful people of St. Mary Church. I feel sure we would be welcomed and allowed to say a prayer at "our" altar..
----- Original Message -----
From:
Carol Fries
To:
ken weis
Sent: Monday, October 15, 2012 4:12 PM
Subject: the chapel of Campion and St Mary's altar
Hi Ken, this is what we have written in our church ministry book about the altar:
"The high altar was designed and constructed in Italy in 1930 for a chapel in the Midwest. It is made of Carrera and Blanco Chiaro marble with Venetian mosaic and onyx accents. The carving of the Last Supper is a particularly fine example of the period. In its original installation, the altar contained statues in the three large niches and angels holding candelabra on the side extensions. However, the chapel where it was originally installed was closed as a house of worship, and the altar was literally saved from the wrecking ball when it was purchased by St. Mary's in 1995. It was carefully dismantled, cataloged, and stored. In 1998, it was brought to Rome and installed by artisans specializing in marble reconstruction. The replacement cost of the altar is in excess of $1 million, though it would be nearly impossible to duplicate the work.
The pulpit and the altar for the celebration of Mass were designed and constructed in Rome from pieces of the original communion rail, which were obtained with the high altar."
Our present church was built in 1930.
I will do my best to update our history information to include Campion.