Death of Howard E. Kalb, S.J.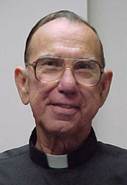 Dear brothers:
Let us pray in thanksgiving for the life of our brother Fr. Howard E. Kalb, S.J., who was called to eternal life on April 4, 2012. Howie died in the Creighton University Jesuit Community in Omaha, NE. He was eighty-eight years old, a Jesuit for seventy years, and a priest for fifty-seven years.
Born in Dubuque, IA on July 27, 1923, Howie attended grade school in Dubuque and Campion Jesuit High School in Prairie du Chien, WI. He entered the Society at St. Stanislaus Seminary, Florissant, MO on August 17, 1941. He had the usual Jesuit course of studies at St. Stanislaus, St. Louis University, and St. Mary's College. Howie was ordained on June 16, 1954, made tertianship in 1955-1956, and pronounced his final vows on February 2, 1959.
Howie's long years of service to God's people were devoted to teaching, parish work, and retreat ministry. He taught math at Campion (where he also did regency and later served as Rector/President) and at Marquette High. He served as Pastor at Ss. Peter and Paul in Mankato, MN and at St. John's in Omaha, NE, and he ministered as a retreat director at the Jesuit Retreat House in Lake Elmo, MN and the Creighton University Retreat Center in Griswold, IA. Howie also served as Director of the Jesuit Seminary Guild in Milwaukee and minister of the Creighton University Jesuit Community. For the last eight years of his life Howie resided in the Creighton University Jesuit Community. Until very recently he continued to give several weekend retreats a year, and until he died he served as chaplain to the sisters at Mercy Villa in Omaha.
Howie was a large, friendly man who drew people to himself. He was a happy, hard-working priest whose ministry was very fruitful. His loyalties were strong and steady over seventy years of Jesuit life in a changing Church and a changing world. At the end he was ready to enter into the joy of the Lord he served so faithfully.
Arrangements are as follows:
Visitation and Funeral – St. John's Church, Omaha, NE
Tuesday, April 10, 2012
Visitation: 9:00 AM
Funeral Mass: 10:00 AM
Burial at Holy Sepulcher Cemetery, Omaha
Messages of condolence may be sent to one of the following:
Rev. Robert F. O'Connor, S.J., Rector
Creighton University Jesuit Community
2500 California Plaza
Omaha, NE 68178-0522
Sr. Marie Therese Kalb (sister)
Bethany Prayer Center
1001 Davis Street
Dubuque, IA 52001
John Kalb (brother)
1885 Marion Street
Dubuque, IA 52001
Richard Kalb (brother)
165 South Grandview Avenue
Dubuque, IA 52003
Thomas J. Kalb (brother)
13420 106th Street
Young America, MN 55397
As we remember with gratitude all that God has done through Howie's life of service to God and God's people, we are reminded of our privilege and obligation to offer Masses and prayers for his eternal repose.
Sincerely in Christ,
Patrick J. Burns, S.J.
Socius