What Band is This?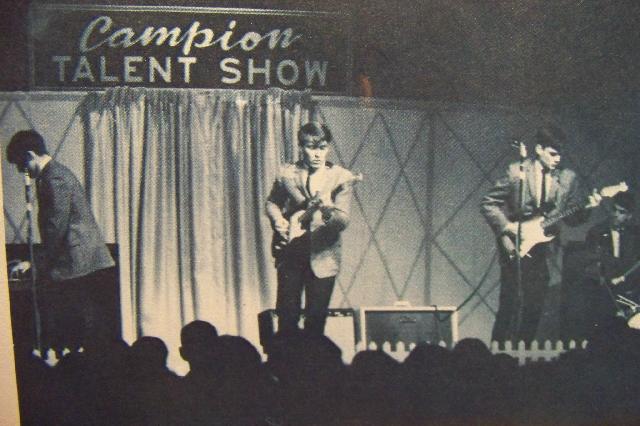 Here is yet another mystery! Who can tell us what band this is and who are the players. We got the answer. Read below the story...

Thomas Harrington '65
Keyboards

Mike Ternes '65
Guitar

David Blaha '65
Lead Guitar

Pete Eickhorst '65
Drums

Kevin Keough says...

Yeah, we had some "talent" shows. Always came in 2nd. In my senior year we
had "the" band but a couple of pretty talented guys (Ternes, Eickhorst, et
al) got together and entered and had tons more personality & showmanship.
Our band played pretty flat, probably, thinking we'd easily win, but those
guys would have still kicked our asses on our best days. Pete Eickhorst
played drums & piano and I seem to think a couple other guys swapped
instruments, too. Dang them. Dang them to heck!
Mike Ternes is in mid-front playing guitar & Pete on the drums on the right.
... The other guys were Blaha & Harrington.  They were The 69ers.

So with that information I was able to get hold of Mike Ternes and here is what he has to add...

* * * * * * * *

O.K. Tommy me boy ... in fact this photo is none other than The 4 Witnesses Band performing during our Senior Year Talent Show ... if memory serves accurately the time was spring of 1965. In this photo young Mr. Thomas Eric Harrington is on the keyboard to the left ... I am playing guitar at center of photo ... the very talented Mr. David Blaha is to my left playing lead on his Sunburst Fender Jazzmaster guitar ... Mr. Pete Eickhorst is laying down the beat on drums. Harry and I jumped back and forth between guitar and keyboards during the show to add a bit of showmanship.

Factoids:

Our band did win our division and overall grand prize at this show ... narrowly defeating a stirring classical piano performance by Joe Rosenberger
We performed three tunes and an encore ... we started with the very popular iconic, anthem tune by The Kingsmen called Louie, Louie ... followed by an instrumental called The Marauder (made famous by The Marauders Band out of Milwaukee, who provided entertainment for our Military Ball) ... and closed the show and brought down the house with a chart topping number by British invaders, The Dave Clark Five called, Come Home ... we added this song just a week or two before the show and that turned out to be a very prudent decision because we all wanted to Come Home now didn't we?
This performance was the catalyst for a newfound acceptance from certain members of the St. Mary's student body and 'throngettes' of groupies started to hang out below our first floor Marquette Hall Southeast windows and lifted steaming, murky brews in Mason Jars up to our rooms in homage. O.K. ... O.K. ... it was not homage, but the brews were still murky and steaming!

I have not talked with Pete in a coon's age ... last time I left him a phone message telling him he won an all expense trip for two to Pebble Beach ... he did not respond ... probably thought I was a telemarketer! I should try him again. I do not have e-mail for him.

So fun to see this old photo because I do not remember having any photos from this particular event and it was a blast as I recall ... the competition was quite strong and it was a great show to be part of.

Please accept my greetings and fond wishes for a very prosperous and enlightened New Year 2010 to you and your family Thomas!

Regards,

Michael Ternes



* * * * * * * *

It is a blast from the past!

Mike's rendition of the show, the events leading up to it and after stir some long lost memories. I had relegated those memories to dreams or embellishments on reality with the passage of time but Mike's remembering them too suggests that in fact they were real. I recall the brews, and a memory, still as murky as the brew to which Mike referred, of a park just beyond the infirmary... but maybe that's not real.

I have a picture someplace showing the drumset with '69ers on it. If I can find it I'll scan it for the website.

I still have the Jazzmaster to which Mike referred but the guitar might be a Stratocaster -- I had a pre-CBS Strat that I'd love to get my hands on again but I traded it in on the Jazzmaster.

Before it's too late we have to have a reunion so I can get the guitar out again.

Dave Blaha

* * * * * * * *

Wow! Thanks Kevin, Mike, and Dave. We already had a page for The 4 Witnesses aka The 69ers. Now we have the picture and a cool story to go with it.
---
Back to THE BANDS page.
---
What years did Campion present Talent Shows?

I am pretty sure there were some in the early mid 1960's.
1969-70 had one for sure where rumors have it that the roadies were on Super JUG for imbibing jebbie property.


The Rooks: Birkmeier, Rieckelman, Knapp, Schneider, Knuck
The Cornerstones: Haurykiewicz, Andrich, Rizzo, Gerbosi, Austin
The Children of Stone: Neill, Jackson, Newell, Stratton , Whittey
The Cornerstones seem to be the successor to the 

I remember the talent show from '66. Spellman won with Flight of the
Bumblebee on the Hammond, the rock bands followed. The crowd booed.

- Jake

Robert R "Jake" Jakoubek